Name Jessica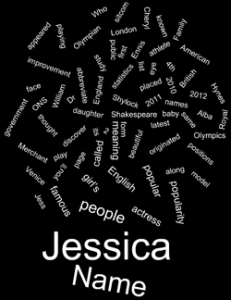 Jessica is a beautiful and popular English girl's name.
On this page you'll discover the meaning and popularity of the name along with some famous people who have the name Jessica.
Meaning of the Name
Jessica the name is thought to have originated from a play by William Shakespeare, Jessica was the daughter of Shylock in the Merchant of Venice.  People with the name Jessica are often called Jess in its abbreviate form.
Popularity
Jessica is a very popular name in England. From the latest government statistics (ONS) in 2013 Jessica is placed in 4th for baby girl's names. This is an improvement of 1 positions from the same study in 2012.
Famous People Called Jessica
Here is a list of a few people in the public eye who have the first name Jessica.
Jessica Ennis – a British Olympian athlete who was the face of the London Olympics in 2012.
Jessica Alba – an American model and actress
Jessica Hynes – an English actress known for playing Cheryl in the Royal Family sitcom. She has also appeared in Dr Who.
Resources
See our comprehensive list of English Girls names – A great source of information if you are looking for a name for your baby.