Meaning of the name Lisa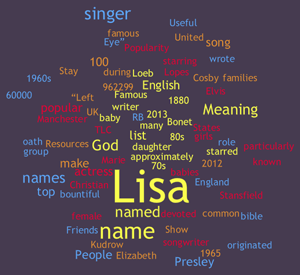 The meaning of Lisa is devoted to God. The meaning of Lisa is also God is my oath and God is bountiful. It is a very common name in Christian families and originated from the name Elizabeth in the bible.
Popularity
Among the top 100 names in 2013, the name Lisa did not make the list. In 2012, Lisa did not make the top 100 names in England either. However it was particularly popular baby name in the UK during the 1960's, 70's and 80's. Since 1880, there have been approximately 962,299 girls named Lisa in the United States. The name Lisa was most popular in 1965 when over 60,000 babies were named Lisa.
Famous People
There are many famous people named Lisa. Lisa "Left Eye" Lopes was a singer for the R&B group TLC. Lisa Bonet is an actress who starred on The Cosby Show. Lisa Marie Presley is a singer and the daughter of Elvis Presley. Lisa Kudrow is an actress known for her starring role on Friends. Lisa Loeb is a singer and songwriter who wrote the song Stay. Lisa Stansfield is an English singer and song writer from Manchester.
Useful Resources