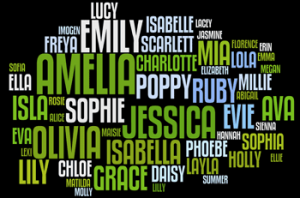 English names are popular throughout the world.
On this page you'll find the 10 most popular English babies names in England according to the latest information released by the Office for National Statistics in England and Wales.
Top 10 names in England in 2013
ISLA
SOPHIE
MIA
Top 10 names in England in 2012
SOPHIE
Other popular names in England which are not of English origin include Isla (Scottish) and Mia (Danish/Swedish).
The Top Most Popular Names in 2011
SOPHIE
Note other girls names might be commonly heard in England but are no on this list as this list is only concerned with the latest girls names that mums and dads are calling their baby's as names come in and out of fashion
Here are a few other popular English Girls Names that nearly made it into our list:
You might also be interested in seeing our article on Posh English names. We'd love to hear what English girl's names are common in your area. Post your comments at the bottom of this page.