Meaning and Origin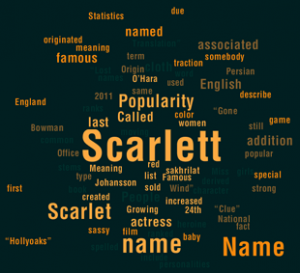 The name Scarlett, meaning the color red, originated as an English last name. The Scarlett name was used to describe somebody who sold a special type of cloth called scarlet. This term is also derived from the Persian word for this cloth, sakhrilat. Because of the famous personalities associated with the name, it is often associated with sassy and strong women.
Popularity
Scarlett, often spelled Scarlet, was among the most popular names for baby girls in England in 2011. In fact, it was ranked 24th on the list created by the National Office of Statistics. In addition to moving up the ranks as a first name, Scarlet is still a common last name.
Famous People Called Scarlett
Growing traction for the name Scarlett likely stems from famous people with the same name. These include Scarlett Johansson, the actress from "Lost in Translation", and Scarlett Bowman, the actress from "Hollyoaks." Popularity of the name also increased due to the popularity of the book and film "Gone with the Wind," in which the heroine was named Scarlett O'Hara. In addition, a character in the game "Clue" was named Miss Scarlet.
Useful Resources