The Meaning of Susan and it's Origin
The name Susan is a feminine name that is a shortened variation of the English name "Susanna," derived from the Hebrew name "Shoshanna," which is in turn derived from the Hebrew word "Shoshan," meaning "Lily." Both the English and Hebrew variants of the name appear to have roots in the Middle Egyptian name "Ssn," meaning "Lotus."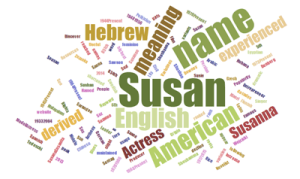 Variations of the Name
English: Susanna, Sue, Susie, Suzi, Suzanne, Susanne, Suzan, Sus, Suz
Persian: Sousan
Arabic: Sawson
Chinese: Sushan
Malayalam: Shoshamma
Swedish: Sanna
Czech: Zuzanka
Finnish: Saana
Spanish: Susana/Susanita
Maori: Huhana
Popularity of Susan
The name reached it's highest peak of usage between 1948-1956 with a maintained rank of 5th or 6th and then experienced a dramatic decline in the following decades. The name was ranked at 834th in 2013 and experienced a slight increase to 851th in 2014.
Famous People Named Susan
• Susan B. Anthony (1820-1906), American Civil Rights Leader
• Susan Hayward (1917-1975), American Actress
• Susan Sarandon (1945-Present), American Actress
• Susan Downey (1973-Present), American Film Producer
• Susan Denberg (1944-Present), German Model/Actress
• Susan Wojcicki (1968-Present), Entrepreneur
• Susan Rice (1964-Present), US Politician
• Susan Tedeschi (1970-Present), Blues Singer
• Susan Sontag (1933-2004), Novelist
Useful Resources
Discover other English girls' names on our website.